Luciano Bacheta completes double F2 victory at Silverstone
| | |
| --- | --- |
| By Charles Bradley | Sunday, April 15th 2012, 14:01 GMT |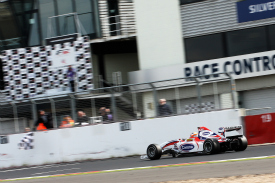 Luciano Bacheta pulled off a sensational penultimate lap round-the-outside passing move to make it two wins from two at the opening Formula 2 round of 2012 at Silverstone on Sunday.

Bacheta, who started third, jumped up to second at the start and tracked every move of poleman and longtime leader Mihai Marinescu. Unlike on Saturday, Marinescu didn't suffer from excessive tyre wear in the closing stages, so Bacheta would had to earn his overtaking move.

Earn it he did, by using his overboost on the Wellington Straight to challenge Marinescu at Brooklands. First he went to the inside, so Marinescu covered him fiercly - as he had done when they battled in race one - so Bacheta cleverly switched to the outside and drove right around him in a perfectly-executed manoeuvre. Despite having overboost allocation of his own to use up, Marinescu couldn't fight back on the final lap.

Front row starter Alex Fontana just held on to third ahead of Daniel McKenzie, with Saturday's shock poleman Matheo Tuscher recovering from a poor start to take fifth, having passed Dino Zamparelli at Brooklands on lap three.
Zamparelli finished sixth, ahead of Markus Pommer, who made an excellent outside/inside pass stick on race one runner-up Christopher Zanella through Brooklands/Luffield.
Pos  Driver                  Time/Gap
 1.  Luciano Bacheta       38m27.118s
 4.  Mihai Marinescu         + 1.137s
 3.  Alex Fontana            + 6.279s
 5.  Daniel McKenzie         + 7.232s
 6.  Matheo Tuscher          + 8.202s
 9.  Dino Zamparelli        + 13.461s
 8.  Markus Pommer          + 16.943s
 2.  Christopher Zanella    + 18.093s
11.  David Zhu              + 18.562s
 7.  Hector Hurst           + 20.676s
12.  Kevin Mirocha          + 30.129s
14.  Mauro Calamia          + 37.260s
10.  Kourosh Khani          + 37.479s
16.  Parthiva Sureshwaren   + 39.053s
15.  Plamen Kralev          + 48.621s
13.  Jose Luis Abadin     + 1m39.053s
Retirements:

     Samuele Buttarelli       16 laps