Jari-Matti Lavala admits Evgeny Novikov's crash contributed to his own incident
| | |
| --- | --- |
| | Sunday, March 11th 2012, 22:39 GMT |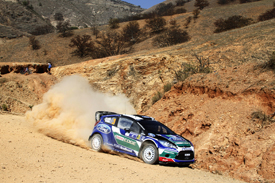 Ford driver Jari-Matti Latvala has admitted that the crash that cost him third place in Rally Mexico came when he was distracted by Evgeny Novikov's crashed car.
The Finn was setting an incredible pace through the longest stage on the route when he went off the road in the same corner as Novikov - despite being warned about the Russian's crash by the Ford team.
Latvala dropped six minutes on the stage, but was prevented from continuing in the event by FIA official who spotted damage to the rollcage in the Fiesta RS WRC.
"I was approaching a fast left bend, which led to a left-right combination," Latvala explained. "From a distance I saw Evgeny's car on its roof, it appeared to be at the side of the road. I braked hard and my car hit the bank and rolled back onto the road. I think we rolled twice.
"The impact punctured the front-left wheel, so we stopped and changed that tyre and drove to the end. The FIA official reported to the clerk of the course that there was a small dent on the case and that it was unsafe to continue."
Latvala has vowed to put his second crash in three rallies behind him.
"Of course, I am extremely disappointed with this, but I have to look forward," he said.