FIA adjusts DRS rules for wet Formula 1 events as part of World Motor Sport Council decisions
| | |
| --- | --- |
| | Friday, March 9th 2012, 14:23 GMT |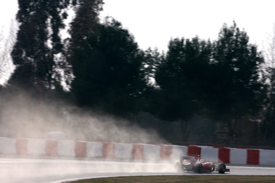 The FIA World Motor Sport Council has agreed some minor changes to Formula 1 regulations ahead of the season-opener in Melbourne next weekend.
A new restriction on DRS use has been introduced in wet events, allowing the race director to "prohibit the use of the adjustable rear wing (DRS) if he feels visibility is too poor in wet conditions."
"This has been done as a result of safety concerns over large speed differentials between cars."
The governing body has also made amendments to the curfew regulations for events with unusual schedules. Some teams accidentally used up curfew exceptions at the Singapore Grand Prix last year after misunderstandings over the implication of the event's night schedule.
An FIA statement said: "Changes have been made to the personnel curfew to ensure the rest periods remain constant throughout the season, irrespective of the timing of practice sessions at particular events."
The final amendment is to the tyre rules for grands prix where Friday running is affected by rain.
"One set of dry-weather tyres may now be carried over to Saturday if both Friday sessions are declared wet; it is hoped that this will result in teams carrying out more laps on Saturday."