Mark Webber not worried about young Red Bull pretenders as he focusses on his own performance
| | |
| --- | --- |
| By Jonathan Noble | Monday, February 27th 2012, 11:54 GMT |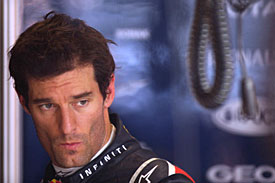 Mark Webber says he will waste no time worrying about rival drivers gunning for his Red Bull Racing seat for next year.

With the Australian's contract up for renewal again at the end of this season, Webber knows he must deliver results if his bosses are not going to consider slotting in youngsters like Daniel Ricciardo or Jean-Eric Vergne.

But rather than feel that the situation is a cause for concern, Webber is well aware of what is expected - and knows the best thing for his future is focusing on his own performances rather than what other drivers are doing.

"The most important thing for Mark Webber is that I perform," he said in an interview with the official Formula 1 website. "The rest I can't control, so I'll just look after myself.

"When you are in front in Formula 1 you are always under intense scrutiny. Every corner is analysed. If teams don't like a driver's style or discipline it does not matter who is waiting in the wings - you are out anyway.

"Teams will always look at what's best for them as drivers are a huge part of the team. I respect that and will focus on 2012 in this fashion."

When asked if that meant his sights were set on a full-scale championship assault this year, after a disappointing 2011 campaign, Webber responded: "Absolutely!

"I had a pretty strong finish last season but unfortunately it was not the best of starts. So for 2012 I want to have a good start, keep it together in the middle part and have a good finish. And then let's count up the points!"