Heat races to determine grid in Iowa's IndyCar race in 2012
| | |
| --- | --- |
| By Mark Glendenning | Tuesday, February 14th 2012, 16:23 GMT |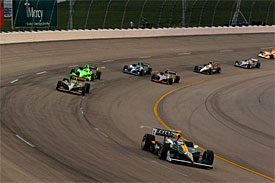 IndyCar will replace single-car qualifying with heat races to set the grid for its event at Iowa Speedway in June.
The series announced today that three 30-lap races would be run after qualifying, with the three groups to be determined by practice times.
Cars that are in the top 10 in practice will race to determine the top 10 grid places, while the other two groups will be divided between odd and even-numbered practice positions to determine starting positions 11-13-15 etc and 12-14-16 etc respectively.
New race director Beaux Barfield has also confirmed that double-file restarts will be retained except at Indianapolis, Texas and Fontana, and indicated that standing starts could be introduced for some events later in the year.
"I've spent the past five weeks writing rules and I have to write a lot more rules for standing starts," Barfield told the official IndyCar website.
"There's a lot of equipment necessary to get and put into place, and most importantly there's so much development going on with the teams and the cars that I want to be respectful of before I throw a lot of new things at them."