Nissan V8 Supercars entry 'proves series' international standing'
| | |
| --- | --- |
| | Thursday, February 9th 2012, 10:41 GMT |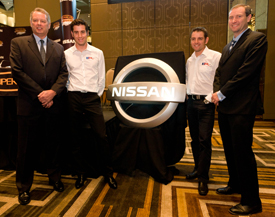 V8 Supercars boss Tony Cochrane described confirmation that Nissan will join the series in 2013 as proof of the Australian championship's wide international appeal.
Nissan announced today that it would become the first manufacturer to take on Ford and Holden in V8s in two decades, with Kelly Racing running a four-car team from 2013.
"We welcome Nissan with more than open arms," Cochrane said.
"This announcement confirms all we have known about V8 Supercars for a long, long time - that we are truly an international player, an extraordinarily popular sport amongst fans globally and in great demand by big business and corporate players."
Nissan Australia's managing director and CEO Dan Thompson said he expected the V8 programme to do great things for the brand.
"Nissan believes that, alongside Ford and Holden, we possess the most convincing motorsport DNA and track history in Australia, making a V8 Supercars debut in 2013 an obvious initiative," said Thompson.
"We are targeting number one importer status in Australia and already making progress towards that as one of the country's fastest growing brands. V8 Supercars will boost that momentum."