Former Force India F1 driver Adrian Sutil to appeal court verdict
| | |
| --- | --- |
| | Wednesday, February 8th 2012, 14:26 GMT |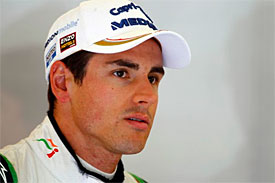 Adrian Sutil will appeal the court verdict after receiving a suspended sentence for assaulting Lotus F1 team co-owner Eric Lux last year.
The German driver was given an 18-month suspended sentence and a 200,000 euro fine for causing bodily harm to Lux in a Shanghai night club brawl in 2011.
The former Force India driver, without a drive for 2012, is set to appeal the verdict, it was revealed on Wednesday.
"We are convinced that the judgement handed down is not appropriate. There are many things that went against us," Sutil's manager Manfred Zimmerman was quoted as saying by the SiD news agency.
The SiD report says that state prosecutors have also appealed the verdict as they believe the punishment was too lenient
Prosecutors had requested a one year and nine months of suspended sentence and a 300,000 euro penalty.