McLaren says it has no plans to build own F1 engine in the future
| | |
| --- | --- |
| By Jonathan Noble and Glenn Freeman | Wednesday, February 1st 2012, 12:39 GMT |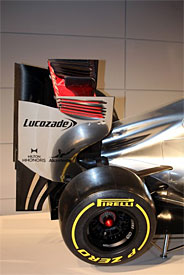 McLaren has no plans to develop its own Formula 1 engine or switch from Mercedes-Benz powerplants, according to team principal Martin Whitmarsh.
The British team's engine supply has been the subject of speculation since the latter part of the 2011 campaign, with rumours suggesting that McLaren could reunite with Honda or even build its own motor to promote its growing road car business.
But Whitmarsh, speaking at the launch of the new MP4-27 F1 car, ruled out a change of supplier, or going down the route of Ferrari and taking engine development in-house.
"Formula 1 is a very, very powerful environment to promote an automotive brand and get brand definition," said Whitmarsh. "But we have no plans - short term, medium term or longer term – to manufacture our own engines.
"We have great respect for what Ferrari have achieved, but we will do things our own way. People will speculate because of our road car programme but it makes no sense for us.
"We have had a great partner for 18 years with Mercedes-Benz, they make probably the best engine in F1.
"The motivation to change is very limited. We enjoy that partnership and intend to continue for a number of years."