Ford unveils 2013 NASCAR Sprint Cup challenger
| | |
| --- | --- |
| | Wednesday, January 25th 2012, 11:16 GMT |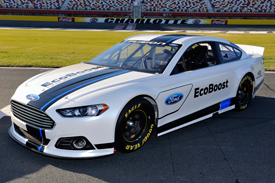 Ford has unveiled the car with which it will compete in the NASCAR Sprint Cup from 2013.
Named the Ford Fusion Sprint Cup, the car is intended to match its production counterpart as heavily as possible, with Ford working to ensure its proportions mirror that of the new factory Fusion.
The car will be tested throughout 2012 in preparation for its race debut at the 2013 Daytona 500.
Jamie Allison, Ford's director of racing, described the unveiling as a 'seminal moment' for the sport.
"We wanted Fusion to be the car that helped return 'stock car' to NASCAR," Allison said. "I think fans, when they see the car, are just going to smile and cheer. It is going to reengage them with the sport and make the sport better because there is just something natural about seeing race cars that look like cars in their driveways.
"This is a seminal moment in the sport where we had a chance to get it right once again and make sure the race cars are race versions of street cars. And I am proud because I believe we have accomplished just that.
"The 2013 Fusion is a stunning car and the 2013 NASCAR Fusion is even more stunning and I can't wait to see it perform on the track and connect with race fans."
It is the third time Ford has simultaneously launched production and NASCAR versions of a new model. The first dual launch came in 1968 with the Torino; the second in 2006 when they pulled the covers off the then-new Fusion.