American Le Mans Series pays tribute to Peugeot
| | |
| --- | --- |
| | Thursday, January 19th 2012, 12:08 GMT |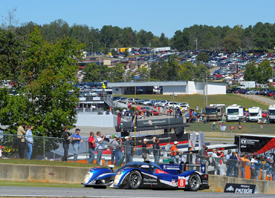 Peugeot's five-year stint in sportscar racing has been praised by American Le Mans Series CEO Scott Atherton following the manufacturer's shock withdrawal from the sport.
The French marque announced on Wednesday that it was pulling out of prototype racing with immediate effect, leaving Audi without a full-time factory rival to take on in the new-for-2012 World Endurance Championship.
The ALMS and WEC seasons kick off together at the Sebring 12 hours in March, and Atherton believes that Peugeot can be proud of its record on both sides of the Atlantic since returning to the sport in 2007.
"While the announcement of Peugeot ending its factory participation in endurance racing comes as a real disappointment, it should not diminish the remarkable achievements that it accomplished in its return to factory prototype competition," he said.
"Its clashes with Audi at Le Mans and in the American Le Mans Series provided fantastic competition and drama on sportscar racing's largest stages."
Atherton added that he hopes Peugeot will not stay away from endurance racing for long.
"Peugeot has made quite an impact in sportscar racing," he said. "And it is our hope to once again welcome them back as a competitor in the future."