Citroen duo Loeb and Hirvonen predict difficult conditions on Monte Carlo Rally
| | |
| --- | --- |
| By Glenn Freeman | Tuesday, January 17th 2012, 14:15 GMT |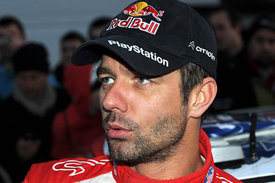 Citroen drivers Sebastien Loeb and Mikko Hirvonen are predicting difficult conditions on this week's Monte Carlo Rally following a change of weather in the build-up to the event.
Eight-time world champion Loeb explained that conditions had been mild when the crews started their preparations for the WRC season-opener, but that the roads had become more difficult on the eve of the rally, which kicks off tomorrow.
"The first two days in the recce it was looking like a tarmac rally, with wet and humid conditions in some places," said Loeb.
"Then the third day of the recce it was full of snow. So it was really tricky, and if we have this kind of condition it will be very difficult. Now it depends on the weather."
Loeb's new team-mate Hirvonen, who has moved across from Ford, added that he expects many drivers to be caught out by the conditions once the stages get underway.
"I've always said I have a kind of love and hate relationship with this rally," said the Finn. "It's a fantastic rally; the only problem is when you are doing an icy downhill with the wrong tyres. That's when I hate it.
"It looks like there are going to be many moments where we are in those conditions on the wrong tyre, but that's what Monte Carlo is about.
"So we just need to cope with that, survive and get through the stages. It's all about making the best compromise with the tyre choice."