David Ragan switches to Front Row Motorsports for 2012 NASCAR Sprint Cup
| | |
| --- | --- |
| | Monday, January 16th 2012, 15:49 GMT |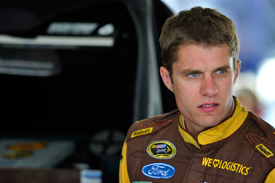 David Ragan will join David Gilliland in Front Row Motorsports' line-up for the 2012 NASCAR Sprint Cup.
Ragan had driven for Roush Fenway since 2006, but was released at the end of last season - a year which had seen him score his first Cup win in the July Daytona race.
"Front Row has made great progress in the last few years, and I look forward to helping them advance to the next level," said the 25-year-old.
"I think the team appreciates what I can bring to the table, and I think it's a good opportunity for both of us.
"I've also enjoyed a long relationship with Ford and I'm glad that I'll get to keep working with them."
Team owner Bob Jenkins believes 2012 can be Front Row's best year yet.
"Ragan is a proven competitor and race winner, Gilliland had a really solid season for us last year, Roush Yates engines are the best in the sport, and Ford continues to provide invaluable support, so I feel like 2012 is really going to be our year to step up to the next level," said Jenkins.
"Plus, I now have two Davids to engage Goliath, and we know how that day ended."