Watkins Glen eyes IndyCar return for 2013 season
| | |
| --- | --- |
| | Tuesday, December 27th 2011, 11:53 GMT |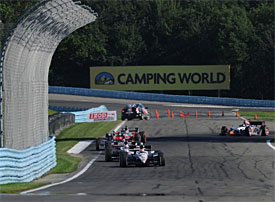 Watkins Glen track officials have confirmed that they are in discussion with IndyCar CEO Randy Bernard about a possible return to the schedule in 2013.
Track president Michael Printup told local newspaper The Corning Leader that he had spoken to Bernard about the potential for the series to run at the New York circuit again, potentially in tandem with NASCAR Trucks.
"I would love to have [IndyCar] back, that's what the fans are asking us," Printup said. "I still think it's a great product, if we can put enough people is, I guess, the question to be able to work on the financial part of it.
"There is no question that, to me, would be a great deal to put [IndyCar and Trucks] in one weekend.
"I know you're mixing fans, which one part of me says 'Don't do that,' but the other side says 'Wait a minute, road racing is road racing.' That's why people come here."
IndyCar raced at Watkins Glen between 2005 and 2010, but pulled out this year due to dwindling crowds.
NASCAR Trucks last visited the track in 2000.