The 2012 WRC Rally Argentina will be the longest route in the sport's recent history
| | |
| --- | --- |
| By Tony Watson and David Evans | Friday, December 23rd 2011, 20:23 GMT |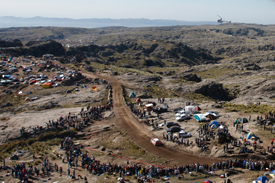 Rally Argentina organisers have issued the longest World Rally Championship route in recent history for the 2012 event.
The route for the classic South American rally was one of the talking points of this season, with the event putting itself forward as a test case for the return of the endurance style event favoured by FIA president Jean Todt.
The organisers haven't been entirely revolutionary, however. The rally will remain based in Villa Carlos Paz, shunning the potential for starting in Buenos Aires and running down through the country. Plans to incorporate competition in neighboring Uruguay or Chile have also been shelved.
What remains is a route with 19 stages and more than 300 miles of competition in three days.
The April 26-29 event has around 100 competitive miles more than the average on the 13 rounds of this year's series.
The longest day of the event is the opening leg, with two runs at the 32-mile Ascochinga-Agua de Oro test helping to tally 121 miles. The sting in the tail of the event has been provided by the El Durazno-Ambul stage at 41 miles.
Much of the route for the event is new - but the classic El Condor stage has been retained, albeit split in two with the run into Copina being utilized for the Sunday afternoon powerstage.
Rally Argentina itinerary 2012:
Thursday April 26
SS1 Parque Tematico 1                 3.75 miles      2008

Friday April 27
SS2 La Pampa-La Pampa 1              20.19 miles      0730
SS3 Ascochinga-Agua de Oro 1         32.83 miles      0821
Service Villa Carlos Paz                              1051
SS4 La Pampa-La Pampa 2              20.19 miles      1251
SS5 Ascochinga-Agua de Oro 2         32.83 miles      1342
Service Villa Carlos Paz                              1612
SS6 Cosquin-Villa Allende            11.77 miles      1709

Saturday April 28
SS7 San Augustin-Santa Rosa 1        12.42 miles      0830
SS8 Amboy-Santa Monica 1             12.42 miles      0923
SS9 Athos Pampa-Golpe de Agua 1      27.15 miles      1025
Service Villa Carlos Paz                              1240
SS10 San Augustin-Santa Rosa 2       12.42 miles      1443
SS11 Amboy-Santa Monica 2            12.42 miles      1536
SS12 Athos Pampa-Golpe de Agua 2     27.15 miles      1638
Service Villa Carlos Paz                              1853
SS13 Parque Tematico 2                3.75 miles      1948
Service Villa Carlos Paz                              2011

Sunday April 29
SS14 El Durazno-Ambul                41.01 miles      0753
SS15 Mina Clavero-Giulio Cesare 1    11.00 miles      0932
SS16 El Condor-Copina                10.12 miles      1009
Service Villa Carlos Paz                              1119
SS17 Mina Clavero-Giulio Cesare 2    11.00 miles      1344
SS18 El Condor-Casilla Negra          5.59 miles      1428
SS19 Copina                           3.10 miles      1511
All timings are local and in 24h format