V8 Supecars reveals Ford and Holden Cars of the Future
| | |
| --- | --- |
| | Friday, December 2nd 2011, 10:14 GMT |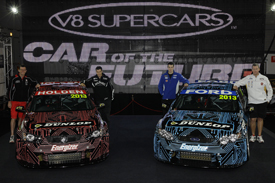 Ford and Holden unveiled their 'Cars of the Future,' the machines that will form the basis of their V8 Supercar challenges from 2013, in Sydney on Friday.
The three-year project, which has been led by five-time series champion Mark Skaife and a team of experienced V8 technical personnel, aims to reduce costs, improve safety and draw more manufacturers into the series.
Championship chairman Tony Cochrane said: "Mark, along with his great team within V8 Supercars and externally, have not only delivered this critical project in time but also with a tremendous finished product.
"The Car of the Future is an integral part of our long-term business and sporting strategy that will result in V8 Supercars embracing new opportunities domestically and internationally, on and off the track. This is a watershed day for V8 Supercars."
Skaife, meanwhile, believes that the new formula will be hugely successful in attracting new manufacturers into the championship.
"Today Ford and Holden combined have roughly 20 per cent of the [Australian road car] market. The other 80 per cent of the market needs to be embraced by V8 Supercars. The reality is you can't have your whole sport based on 20 per cent of the car market," he said.
Teams are expected to begin the build of their cars later this month.