Atech CRS makes American Ethan Ringel its first signing for 2012 GP3 season
| | |
| --- | --- |
| By Jamie O'Leary | Tuesday, November 22nd 2011, 11:18 GMT |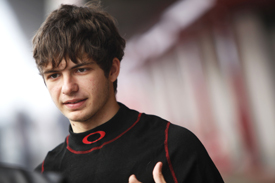 Atech CRS has signed American teenager Ethan Ringel to head its GP3 Series line-up next year.
Ringel, tested for the team at Barcelona last month, and has since decided to continue a career that began this year in F2000 and Formula Enterprise stateside, in Europe in 2012.
"Unike most American drivers, it was never my dream to do IndyCar," said Ringel.
"I've always wanted to do Formula 1 and competing in GP3 is the most logical step to start that climb. [Driver coach] Jay [Howard] was actually the one who pushed for me to come over to the UK and start in GP3 and Atech CRS GP was without doubt the best choice.
"They have a great car, the team is very professional and all the engineers and mechanics are really good to work with. However, I have no expectations going into the first rounds.
"My priority for now is to learn the car, learn the tracks and learn the best way to work with the team, so we can start the season in the best possible shape."