Rick Hendrick and his wife survive plane crash after brake failure in landing
| | |
| --- | --- |
| By Diego Mejia | Tuesday, November 1st 2011, 09:18 GMT |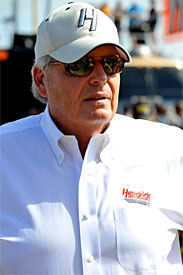 NASCAR team owner Rick Hendrick and his wife Linda escaped serious injury after a technical failure caused the jet they were flying in to run off the runway when landing at Key West, Florida.
According to a report from the local Sheriff, a Gulfstream 150 jet crash landed at the Key West airport Monday evening at 7:45 p.m. with the pilot and co-pilot radioing there were no brakes upon landing.
The report states that four people on board were taken to Lower Keys hospital, two with minor injuries and two transported for precautionary reasons.
A statement from Hendrick Motorsports confirmed that there were no serious injuries to either Mr. or Mrs. Hendrick, neither to the two pilots.
The plane, carrying Jimmie Johnson's number and initials, was registered to Jimmie Johnson Racing II Incorporated and ran completely off the runway before coming to rest in an unpaved safety area that had been added to the airport last May.
Almost seven years ago, on October 24 of 2004, a Hendrick Motorsports plane crashed upon landing at Martinsville, killing all ten passengers including the team's president John Hendrick and Rick Hendrick's son and former NASCAR racer Ricky.