Schumacher fined for pitlane incident, other drivers escape punishment
| | |
| --- | --- |
| By Jonathan Noble | Friday, October 7th 2011, 10:52 GMT |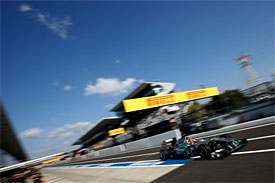 Michael Schumacher has been fined 5,000 Euros for making a late entry into the pits during second practice for the Japanese Grand Prix.
Schumacher dived into the pits after a bollard that marks the official start of the pitlane, which is a breach of F1's sporting regulations.
After investigation by the stewards, it was decided that because the incident took place in practice that there would not be more serious action taken against him - so he was fined 5,000 Euros.
Meanwhile, Lewis Hamilton, Bruno Senna, Sebastien Buemi and Heikki Kovalainen all escaped without punishment following investigations into yellow flag infringements during practice.
All four drivers were called to the stewards on Friday afternoon for having set their best sector times while yellow flags were out for Vitantonio Liuzzi's stranded car in second practice.
The yellow flag section was 278 metres of a sector that measured 2557 metres in total.
After analysis of data from each drivers' car, the stewards discovered that all the drivers had slowed down for the incident – which is why they decided to take no action.