Auto GP champion Kevin Ceccon relieved Fabrizio Crestani kept Luca Filippi at bay
| | |
| --- | --- |
| By Richard Asher | Sunday, October 2nd 2011, 14:32 GMT |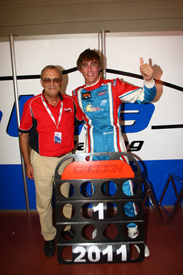 New Auto GP champion Kevin Ceccon thanked his compatriot Fabio Crestani for helping him secure the title at Mugello this afternoon.
With Ceccon running a lowly seventh, the Italian would have been in serious danger of losing the crown had Luca Filippi been able to pass Crestani for third place.
As it happened, though, Filippi (Super Nova) was unable to find away around Crestani (Lazarus), which left Ceccon and Ombra Racing celebrating.
"I was more or less aware of the championship situation," said Ceccon. "We've had radio problems all season, so I asked the team to give me all the information on my pit board.
"So I knew Filippi was fourth and I'm very happy he didn't pass Crestani - thanks Fabrizio!"
Filippi said he had the pace to run higher than fourth, but suffered too much aerodynamic disturbance running behind Crestani.
"I kept on getting close and then falling back in the quick corners. It was impossible to pass. Maybe if I'd been able to pick up one more position at the start..." said the Italian veteran.
"Still, it's been good for me to do this series. Most of the time we've been able to show that we're the team to beat."