Loeb damages car in Rally de France recce
| | |
| --- | --- |
| By David Evans | Wednesday, September 28th 2011, 14:26 GMT |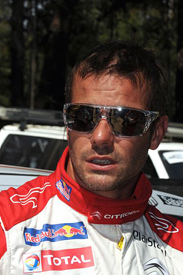 Sebastien Loeb damaged his car during the recce for this week's Rally de France, while the defending world champion was attempting to cut corners on the route for his home round of the series.
The organisers of the Strasbourg-based event have put steel poles on the inside of some corners in an effort to stop the drivers cutting corners and dirtying the road for the crews following. Last year, the drivers complained bitterly at the level of mud pulled into the road, seriously handicapping those further down the field.
Loeb said: "I thought I would test to see what happened if you hit the pole. I hit a few, but then after four or five I hit one and I damaged the oil cooler on the recce car [Mitsubishi Lancer].
"The front of the recce car is very strong, stronger than the front of the DS3 WRC which is lighter and made more aerodynamic and also the speed will be much higher in the rally car, so this was not a good idea."
Loeb did not lose any time through the damaged oil cooler, which was changed during the recce service yesterday.