James Nash holds off Rob Austin to take maiden British Touring Car win at Rockingham
| | |
| --- | --- |
| By Kevin Turner | Sunday, September 18th 2011, 16:43 GMT |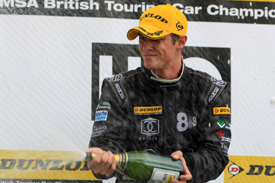 James Nash took his first British Touring Car race victory in an exciting reversed-grid encounter at Rockingham this afternoon.
The Triple Eight Vauxhall Vectra made a good start from row three to initially run third. He then drafted past polesitter Rob Collard's WSR BMW, which had lost the lead to Rob Austin's Audi A4 at Deene first time through, at the end of lap one to snatch second.
Nash took the lead by diving pastAustin at Deene on lap four of 16, but as the race went on the Vectra's 17-inch tyres wore faster than the 18-inch Dunlops on the rear-wheel-drive NGTC Audi.
Austin applied huge pressure to the Vectra, but Nash held firm to give Triple Eight its first BTCC victory since Fabrizio Giovanardi triumphed at Thruxton at the beginning of 2010.
There was an even fiercer battle for third. Collard dropped off the back of the leaders during the middle of the race and fell into the clutches of Paul O'Neill (Tech-Speed Chevrolet Cruze). They touched several times before O'Neill dived by into Chapman Curve.
Collard tracked the Cruze and got a great run out of the last corner going onto the final lap. He got down the inside into Turn 1 and his tyres were in such a fine state he charged after the leading duo. In the end the top three were covered by just 0.860 seconds.
Jeff Smith's Eurotech Vectra ran fifth in the early stages, ahead of a multi-car battle that only got broken up when Gordon Shedden's Honda tried to pass Nick Foster's WSR BMW. The ensuing contact allowed race one winner Jason Plato to break free and chase after Smith.
Plato's Chevrolet Cruze secured fifth by going round the outside of Smith into Brook, while the Vectra driver would get pipped for sixth by Matt Neal's Honda by just 0.028s on the run to the flag.
The clash with Foster broke Shedden's rear suspension and meant he fell out of the points, losing ground to Neal and Plato in the title race in the process.
Pos  Driver           Team/Car                Time/Gap
 1.  James Nash       Triple 8 Vauxhall     23m05.027s
 2.  Rob Austin       Rob Austin Audi         + 0.366s
 3.  Rob Collard      WSR BMW                 + 0.860s
 4.  Paul O'Neill     Tech-Speed Chevrolet    + 2.207s
 5.  Jason Plato      Chevrolet               + 3.724s
 6.  Matt Neal        Honda                  + 14.182s
 7.  Jeff Smith       Eurotech Vauxhall      + 14.210s
 8.  Andrew Jordan    Eurotech Vauxhall      + 14.726s
 9.  Frank Wrathall   Dynojet Toyota         + 15.174s
10.  Tom Boardman     Special Tuning SEAT    + 21.065s
11.  Alex MacDowall   Chevrolet              + 22.086s
12.  Nick Foster      WSR BMW                + 22.357s
13.  Mat Jackson      Motorbase Ford         + 23.663s
14.  Daniel Welch     Welch Proton           + 26.706s
15.  Dave Newsham     Special Tuning SEAT    + 33.296s
16.  Martin Byford    AmD Volkswagen         + 37.909s
17.  Tony Gilham      Geoff Steel BMW        + 38.419s
18.  Tom Chilton      Arena Ford             + 38.420s
19.  Liam Griffin     Motorbase Ford         + 41.584s
20.  Michael Caine    Motorbase Ford         + 43.166s
21.  Gordon Shedden   Honda                  + 44.117s
22.  John George      Tech-Speed Chevrolet   + 57.445s
23.  Chris James      ES Chevrolet             + 1 lap

Retirements:

     Tom Onslow-Cole  Arena Ford                4 laps