Helio Castroneves gets post-race penalty for illegal pass at Motegi
| | |
| --- | --- |
| | Sunday, September 18th 2011, 07:43 GMT |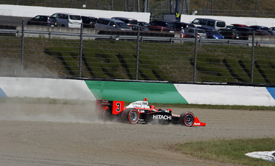 Helio Castroneves has lost his seventh place at Motegi for passing JR Hildebrand under yellow on the final lap of the race.
The Brazilian drops to 22nd as a result, but more significantly the penalty elevates Dario Franchitti to eighth - which brings the champion's deficit to new series leader Will Power down to 11 points with two races to go.
Franchitti lost the IndyCar championship lead to Power today when the Australian finished second behind Scott Dixon, while Franchitti was delayed when he triggered a multi-car collision at a mid-race restart.
Castroneves (Penske) had started sixth but went through the gravel at the first corner of the race. He fought back to seventh on the road before his move on Panther driver Hildebrand was adjudged to have been illegal - a decision that left Castroneves deeply unhappy.
"I am very disappointed in the result and the decision to penalise us at the end," he said.
"I have said it before - the decisions by race control have been very inconsistent, this season especially, and I think today was just another example.
"I am really upset about it and I think it is very unfortunate for the fans and my fellow drivers."