Audi unveils 2012 DTM machine in Frankfurt
| | |
| --- | --- |
| By Jamie O'Leary | Monday, September 12th 2011, 20:03 GMT |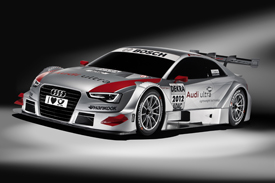 Audi has unveiled the car that will carry its hopes in next year's DTM ahead of the Frankfurt Motor Show.
The A5 DTM is based on a coupe body and surrounds a spec safety cell, in line with the championship's all-new technical regulations that will be introduced next year.
Like the BMW M3 DTM, which was revealed in July, the A5 features heavily reduced rear aerodynamics compared to the A4 that it replaces - despite a noticeably larger rear wing - as well as far less sophisticated electronics and bigger wheels and tyres than previously.
Among the other new developments in line with a rules set that aims to reduce costs by up to 40 per cent are strict limits on the kinds of materials used in the build of the cars and a larger 120-litre fuel cell that will allow races to be completed without a fuel stop.
The car, codenamed the R17 within Audi, will be on display at the Frankfurt show from Tuesday morning while a number of factory drivers take part in the DTM's 'private' test at Lausitz, to which Audi, BMW and Mercedes have been invited.
Chief rival Mercedes will unveil its new car on Tuesday in Frankfurt.