Ken Block rues note-making error during Rally Australia recce
| | |
| --- | --- |
| By David Evans | Saturday, September 10th 2011, 06:41 GMT |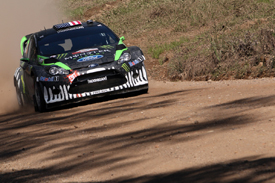 Ken Block says the day one accident which ruled him out of top-10 contention on Rally Australia was the result of getting his notes for one corner wrong on the pre-event recce.
Block's hopes of scoring points on the Coffs Harbour-based event went out of the window when he went off the road on the opening gravel stage.
"I was worried that the mistake I'd made on the recce in the corner yesterday might have happened more through the rally," said Block, "but it doesn't seem to have happened.
"It's just that one corner I got wrong, which makes it really frustrating. I had the corner tightening to a four and it should have tightened to a three."
The American returned to the rally today and said he was pleased with his progress, posting ninth fastest time on all of the morning's stages. Going into the final gravel stage of leg two, Block's Monster Ford is running 16th overall.
"I'm pretty pleased with the way things have gone today," he said. "The times have been pretty competitive considering that the road's not really cleaning that much. I've learned a lot from this event and I feel I'm coming to terms with the hard tyre we have here as well."