Red Bull's Kasey Kahne takes pole for Atlanta NASCAR Sprint Cup race
| | |
| --- | --- |
| By Diego Mejia | Saturday, September 3rd 2011, 23:08 GMT |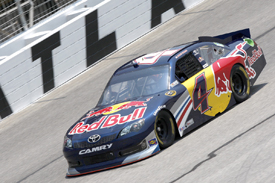 Kasey Kahne claimed his second pole position of the season in qualifying for Sunday night's NASCAR Sprint Cup race at Atlanta, the penultimate round ahead of the Chase.
The Red Bull Racing driver beat the previous benchmark of the session set by Joe Gibbs Racing's Kyle Busch at the wheel of his #4 Toyota with a lap of 29.775 seconds at an average speed of 186.196 mph.
Richard Childress Racing's Clint Bowyer, who needs a strong result on Sunday in order to remain in the hunt for a Chase spot, got closest to Kahne's time, finishing less than half a tenth of a second adrift to lock out a front row spot.
Although Kahne is not completely out of the Chase picture, he currently looks unlikely to be among the title contenders this season. But his pole provides a much needed boost for his squad, which is still trying to secure funding for next year as Red Bull is set to pull the plug on its backing at the end of the season.
"I was surprised a couple of guys didn't beat me," said Kahne. "Clint came really close, but other than that nobody was really too close, I guess. Brian Vickers is fourth so we have a couple of cars in the top two rows for tomorrow night, so it's exciting, it's good.
"We definitely need to win... We need to still work on the car a little bit and throw something at it for tomorrow night, but I think we're close. Can we win? Anybody can in this deal these days... If we can win I think we still have a shot at the Chase."
Points leader Busch - who had a brush with the Turn 4 wall in practice earlier in the day - ended up third ahead of Kahne's team-mate Vickers, while Hendrick Motorsports' Jeff Gordon rounded out the top five after holding on to provisional pole for a while. Roush Fenway's Matt Kenseth and Carl Edwards were sixth and seventh, with Stewart Haas' Ryan Newman and Penske's Kurt Busch completing the top 10.
Brad Keselowski, who was fastest in the first practice on Friday, was 14th fastest in qualifying after avoiding an engine change following damage to the oil-pan on his car's engine during practice. He will start from the seventh row of the grid beside JGR's Denny Hamlin, the final man holding a provisional wildcard Chase spot.
Tony Stewart, who won the last Cup race held at Atlanta a year ago, showed great consistency during long runs in the final practice and will see the green flag wave from 20th on the grid. He is hoping for a solid result to remain among the top 10 in the points with the play-off looming.
Michael McDowell was the fastest of the non-guaranteed drivers in 28th, while Tony Raines, David Stremme, Geoffrey Bodine and TJ Bell failed to make the field.
Pos  Driver              Team/Car                     Time     Gap
 1.  Kasey Kahne         Red Bull Toyota              29.775s
 2.  Clint Bowyer        Childress Chevrolet          29.819s  + 0.044s
 3.  Kyle Busch          Gibbs Toyota                 29.832s  + 0.057s
 4.  Brian Vickers       Red Bull Toyota              29.843s  + 0.068s
 5.  Jeff Gordon         Hendrick Chevrolet           29.849s  + 0.074s
 6.  Matt Kenseth        Roush Fenway Ford            29.853s  + 0.078s
 7.  Carl Edwards        Roush Fenway Ford            29.877s  + 0.102s
 8.  Martin Truex Jr     Waltrip Toyota               29.880s  + 0.105s
 9.  Ryan Newman         Stewart Haas Chevrolet       29.889s  + 0.114s
10.  Kurt Busch          Penske Dodge                 29.915s  + 0.140s
11.  AJ Allmendinger     Petty Ford                   29.921s  + 0.146s
12.  Juan Pablo Montoya  Earnhardt Ganassi Chevrolet  29.939s  + 0.164s
13.  Denny Hamlin        Gibbs Toyota                 29.947s  + 0.172s
14.  Brad Keselowski     Penske Dodge                 29.949s  + 0.174s
15.  Greg Biffle         Roush Fenway Ford            29.958s  + 0.183s
16.  David Reutimann     Waltrip Toyota               30.000s  + 0.225s
17.  Jimmie Johnson      Hendrick Chevrolet           30.055s  + 0.280s
18.  Marcos Ambrose      Petty Ford                   30.086s  + 0.311s
19.  David Ragan         Roush Fenway Ford            30.128s  + 0.353s
20.  Tony Stewart        Stewart Haas Chevrolet       30.147s  + 0.372s
21.  Kevin Harvick       Childress Chevrolet          30.163s  + 0.388s
22.  Paul Menard         Childress Chevrolet          30.183s  + 0.408s
23.  Bobby Labonte       JTG Daugherty Toyota         30.230s  + 0.455s
24.  Joey Logano         Gibbs Toyota                 30.232s  + 0.457s
25.  Jamie McMurray      Earnhardt Ganassi Chevrolet  30.239s  + 0.464s
26.  Regan Smith         Furniture Row Chevrolet      30.270s  + 0.495s
27.  Jeff Burton         Childress Chevrolet          30.275s  + 0.500s
28.  Michael McDowell    HP Toyota                    30.291s  + 0.516s
29.  Dale Earnhardt Jr   Hendrick Chevrolet           30.312s  + 0.537s
30.  Scott Speed         Whitney Chevrolet            30.319s  + 0.544s
31.  JJ Yeley            Front Row Ford               30.378s  + 0.603s
32.  Mark Martin         Hendrick Chevrolet           30.388s  + 0.613s
33.  Robby Gordon        Gordon Dodge                 30.502s  + 0.727s
34.  Joe Nemechek        NEMCO Toyota                 30.513s  + 0.738s
35.  Dave Blaney         Baldwin Chevrolet            30.556s  + 0.781s
36.  David Gilliland     Front Row Ford               30.673s  + 0.898s
37.  Landon Cassill      Phoenix Chevrolet            30.702s  + 0.927s
38.  Casey Mears         Germain Toyota               30.757s  + 0.982s
39.  Mike Skinner        Germain Toyota               30.798s  + 1.023s
40.  Mike Bliss          FAS Lane Ford                30.819s  + 1.044s
41.  Travis Kvapil       Front Row Ford               30.822s  + 1.047s
42.  Andy Lally          TRG Chevrolet                31.060s  + 1.285s
43.  David Starr         Leavine Ford                 30.845s  + 1.070s

Did not qualify:

     Tony Raines         Front Row Ford               30.870s  + 1.095s
     David Stremme       Inception Chevrolet          30.883s  + 1.108s
     Geoffrey Bodine     Baldwin Chevrolet            31.014s  + 1.239s
     TJ Bell             LTD Chevrolet                31.034s  + 1.259s