| | |
| --- | --- |
| Ben Spies reveals injury concerns ahead of the Czech Grand Prix | |
| | |
| --- | --- |
| By Dieter Rencken and Sam Tremayne | Saturday, August 13th 2011, 23:58 GMT |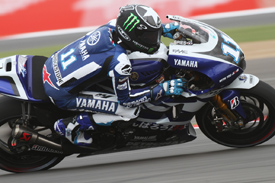 Ben Spies has revealed he is suffering from a trapped nerve which he fears may hit his Czech Grand Prix prospects.
The American suffered the injury in innocuous circumstances, and while it hasn't affected his single-lap pace - he qualified fourth for Sunday's race - he admits his ability to last a full race distance remains a doubt.
"I pinched a nerve in my neck or shoulder and it has made my whole left arm numb," Spies explained. "I just lose strength after four or five laps, so I'm worried about race distance.
"We can still do the laptimes, but we'll have to see how it goes after 15 laps. Right now I feel like I could do about half a race.
"I've just been resting and hoping it gets better day by day, and it has - but slowly. Tomorrow we'll have to face it again, no excuses, and just do the best we can."
Asked whether the injury could be traced back to his crash at Laguna Seca, Spies replied: "I don't think so, this happened a week after. I was just sitting at a table and all of a sudden I had a shock go through my neck and left arm.
"It's something I can't fix - the bike is definitely working better than I am. All we can do is rest a little bit, but its going to be a hard, long race."