David Coulthard and Ralf Schumacher given suspended penalties after collision
| | |
| --- | --- |
| By Jamie O'Leary | Sunday, August 7th 2011, 15:30 GMT |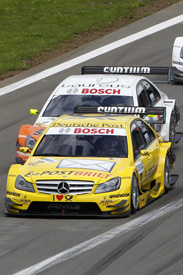 David Coulthard and Ralf Schumacher have both been given suspended grid penalties after colliding during the Nurburgring DTM race.
HWA Mercedes driver Schumacher pushed Coulthard off the track at Turn 1 on the second lap, and the pair then collided at the following corner as Coulthard attempted to retake the position.
The second contact forced Schumacher into a spin and retirement.
After reviewing video evidence, race stewards decided that both drivers had been at fault and contravened article 30 of the DTM Sporting Code and gave each driver a three-place grid penalty, suspended for one race.
Coulthard said: "It's the first time I can ever remember being given a penalty by stewards in more than 20 years of racing.
"I was so far off the line at the exit of Turn 1 - I hadn't been that far off all weekend – so I had no idea where the grip was. It's just unfortunate that this happened, because I damaged my car and the good pace we had this weekend was for nothing."
Schumacher added: "I braked a bit too late perhaps and made contact with him. It was a fair fight; we both wanted to maintain position. As fellow Mercedes drivers, we did everything we could, though, and gave no quarter, but it's no big deal, in a close-run race, these things happen."