David Ragan on pole for the Brickyard 400 at Indianapolis
| | |
| --- | --- |
| By Diego Mejia | Saturday, July 30th 2011, 21:25 GMT |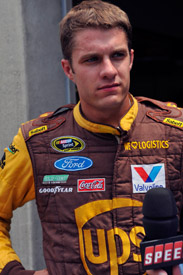 Roush Fenway Racing's David Ragan claimed pole position for the Brickyard 400 as the team continued its dominance of the Indianapolis weekend.
Ragan, who claimed his maiden Sprint Cup win earlier this month at Daytona, beat the early benchmark set by three-time Brickyard 400 winner Jimmie Johnson with a lap of 49.182 seconds at an average speed of 182.994 mph.
Red Bull Racing's Kasey Kahne would later get to within 0.018s of Ragan's lap, bumping Johnson from the front row of the grid and securing his best start at Indy.
"It was just a good, solid lap," said Ford driver Ragan after claiming his second Cup pole. "I always criticise myself and think I could have gotten more, but I don't really know. The car was fast. It did what I needed it to do.
"We were off a little bit in race practice but I think we made a lot of changes, we made some improvements. The key for tomorrow is staying up front. I don't think you can fall any further back than 10th or 15th.
"We've got to have a good day on pitroad, I've got to make good adjustments on the race car. It'll be hot, it'll be slick. We've got to stay in that top-10 all day."
Kahne, who survived a massive crash in a sprint car event last weekend, took his second front-row start of the season, giving his team reason for hope as it still seeks investors to stay afloat in 2012. He anticipates tyre wear will increase relative to the past and feels confident on his car's consistency on long runs.
"Top-two or three rows starting here is really good the way things are right now," said Kahne. "One thing that's going to be a little bit different is that the tyres are going to fall off a lot tomorrow, which will be good I think for the race.
"I think there will be a little bit more passing because of that. Some cars get slower than others as the race runs go. I think we'll be in a good spot. Our cars didn't fall off too bad today."
Johnson's Hendrick Chevrolet will share the second row of the grid with Penske Dodge driver Kurt Busch, making it four different manufacturers in the top four spots, while the second Penske car of Brad Keselowski rounded out the top five.
Richard Petty's AJ Allmendinger was sixth ahead of pre-race favourite Juan Pablo Montoya, who had a solid qualifying effort alongside his new Earnhardt Ganassi Racing crew chief Jim Pohlman.
Johnson's Hendrick team-mate Jeff Gordon was eighth while the Roush Fenway Fords of Matt Kenseth and points leader Carl Edwards completed the top 10.
Greg Biffle, fastest final practice, ended up only 18th. Daytona 500 winner Trevor Bayne was the fastest of the non-guaranteed drivers in 25th driving Roush Fenway machinery for the Wood Brothers, while Sprint Cup returnee Scott Speed was 24th for Max Q Motorsports.
David Stremme, Travis Kvapil, Erik Darnell, JJ Yeley and Scott Wimmer failed to make the field.
Pos  Driver              Team/Car                     Time     Gap
 1.  David Ragan         Roush Fenway Ford            49.182s
 2.  Kasey Kahne         Red Bull Toyota              49.200s  + 0.018s
 3.  Jimmie Johnson      Hendrick Chevrolet           49.234s  + 0.052s
 4.  Kurt Busch          Penske Dodge                 49.269s  + 0.087s
 5.  Brad Keselowski     Penske Dodge                 49.300s  + 0.118s
 6.  AJ Allmendinger     Petty Ford                   49.330s  + 0.148s
 7.  Juan Pablo Montoya  Earnhardt Ganassi Chevrolet  49.351s  + 0.169s
 8.  Jeff Gordon         Hendrick Chevrolet           49.385s  + 0.203s
 9.  Matt Kenseth        Roush Fenway Ford            49.392s  + 0.210s
10.  Carl Edwards        Roush Fenway Ford            49.437s  + 0.255s
11.  Casey Mears         Germain Toyota               49.444s  + 0.262s
12.  Mark Martin         Hendrick Chevrolet           49.459s  + 0.277s
13.  Jeff Burton         Childress Chevrolet          49.479s  + 0.297s
14.  Denny Hamlin        Gibbs Toyota                 49.480s  + 0.298s
15.  Paul Menard         Childress Chevrolet          49.486s  + 0.304s
16.  Jamie McMurray      Earnhardt Ganassi Chevrolet  49.492s  + 0.310s
17.  Bobby Labonte       JTG Daugherty Toyota         49.528s  + 0.346s
18.  Greg Biffle         Roush Fenway Ford            49.537s  + 0.355s
19.  Kevin Harvick       Childress Chevrolet          49.550s  + 0.368s
20.  Joey Logano         Gibbs Toyota                 49.608s  + 0.426s
21.  Marcos Ambrose      Petty Ford                   49.617s  + 0.435s
22.  Dale Earnhardt Jr   Hendrick Chevrolet           49.632s  + 0.450s
23.  Ryan Newman         Stewart Haas Chevrolet       49.636s  + 0.454s
24.  Tony Stewart        Stewart Haas Chevrolet       49.655s  + 0.473s
25.  Trevor Bayne        Wood Brothers Ford           49.687s  + 0.505s
26.  Clint Bowyer        Childress Chevrolet          49.729s  + 0.547s
27.  Regan Smith         Furniture Row Chevrolet      49.744s  + 0.562s
28.  David Reutimann     Waltrip Toyota               49.748s  + 0.566s
29.  Kyle Busch          Gibbs Toyota                 49.764s  + 0.582s
30.  Martin Truex Jr     Waltrip Toyota               49.829s  + 0.647s
31.  Brian Vickers       Red Bull Toyota              49.831s  + 0.649s
32.  Landon Cassill      Phoenix Chevrolet            49.963s  + 0.781s
33.  Dave Blaney         Baldwin Chevrolet            50.021s  + 0.839s
34.  Scott Speed         Max Q Ford                   50.126s  + 0.944s
35.  Michael McDowell    HP Toyota                    50.153s  + 0.971s
36.  Joe Nemechek        NEMCO Toyota                 50.196s  + 1.014s
37.  David Gilliland     Front Row Ford               50.202s  + 1.020s
38.  Mike Skinner        Germain Toyota               50.282s  + 1.100s
39.  Andy Lally          TRG Ford                     50.300s  + 1.118s
40.  TJ Bell             LTD Powersports Chevrolet    50.564s  + 1.382s
41.  Robby Gordon        Gordon Dodge                 50.600s  + 1.418s
42.  Mike Bliss          FAS Lane Ford                50.601s  + 1.419s
43.  Terry Labonte       FAS Lane Ford                51.577s  + 2.395s

Did not qualify:

     David Stremme       Inception Chevrolet          50.579s  + 1.397s
     Travis Kvapil       Front Row Ford               50.729s  + 1.547s
     Erik Darnell        Whitney Ford                 50.734s  + 1.552s
     JJ Yeley            Front Row Ford               51.009s  + 1.827s
     Scott Wimmer        Gordon Dodge                 51.415s  + 2.233s