Pastor Maldonado hopes tyre gamble pays off in Hungary
| | |
| --- | --- |
| By Pablo Elizalde | Saturday, July 30th 2011, 14:16 GMT |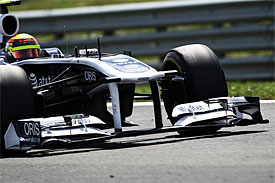 Pastor Maldonado is hoping his decision to not run in the second qualifying segment will pay off in tomorrow's Hungarian Grand Prix.
The Venezuelan took the unusual decision to not run in Q2, a move usually reserved for the final part of qualifying.
Maldonado will start from 17th position and the Williams driver is hoping to benefit from saving so many super soft tyres.
"We decided not to run in Q2 to save a set of options," said Maldonado. "It is essential we get the best result we can from the race and so for our strategy it was important to save some tyres today.
"I think there will be a big fight tomorrow with the cars starting around us, but we have one more set of super softs. I am looking forward to seeing what we can do now."
Team-mate Rubens Barrichello qualified in 15th place after suffering problems with his KERS.
"Everything was running so well and we had a promising strategy in place, but I couldn't engage KERS in sector one of my last lap, and that compromised my time," he said.
"I still had a pretty good lap, but I'm disappointed because we had a competitive run earlier on with the primes and so were thinking that 11th or 12th was possible on the option. Still, we've saved enough tyres and with a solid strategy we can have a better race tomorrow."