Virgin's Graeme Lowdon says McLaren tie-up a statement of intent
| | |
| --- | --- |
| By Jonathan Noble and Sam Tremayne | Thursday, July 7th 2011, 15:21 GMT |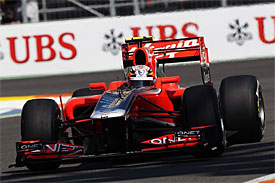 Virgin Racing's sporting director Graeme Lowdon has hailed his team's technical tie-in with McLaren as a statement of intent over its long-term ambitions in the sport.
As revealed by AUTOSPORT, Virgin Racing announced on Monday that it had concluded a deal giving it access to McLaren's facilities - such as test rigs, simulators and computer technology - plus its wind tunnel.
Lowdon said the deal has given his team a welcome boost ahead of Silverstone, but predicts its effect will only be fully realised for the 2012 season.
"This is a real statement of intent that we want to be in the pack as quickly as possible, and get to a situation where we are really challenging in races," Lowdon told AUTOSPORT.
"The prime focus is going to be the 2012 car, as it is for most teams in the paddock now, but we think that there will be some benefits for the 2011 car – kind of by osmosis as opposed to a specific focus.
"It's not a case of just forgetting what's happening in 2011. We certainly want to improve where we're at with the 2011 car, but the main realisation will be from 2012 onwards.
"We've always had a great team spirit, and nobody lost any faith in the long term picture of what we wanted to do. I think people know this is actually a pretty good team, it's just not reflected on the track up to now.
"If we can bring that, that's the missing piece of the jigsaw."