Marko says diffuser ban will cost Red Bull half a second per lap
| | |
| --- | --- |
| By Pablo Elizalde and Gerhard Kuntschik | Wednesday, June 29th 2011, 09:14 GMT |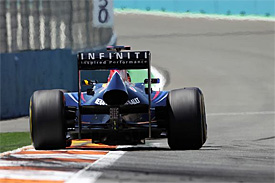 Red Bull's motorsport advisor Helmut Marko says the team will lose half a second per lap with the introduction of a ban on off-throttle blown diffusers from the British Grand Prix.
But Marko is adamant the team has taken the right measures to make up for that with new set-ups and aerodynamic updates.
The ban, which is likely to affect most teams to some degree, will kick in in next week's race at Silverstone.
"We expect to lose approximately 0.5 seconds per lap without the blown diffuser," said Marko.
"However, we made preparations to equalise this in terms of set-up and aero measures. We are optimistic that we will keep our performance level."
He admitted, however, that Red Bull was disappointed about the FIA decision to introduce the ban in the middle of the season.
"We would have understood if this was implemented at the end of the season like many other technical developments recently," he said.
"But to do this halfway through the season is a bit strange and not quite understandable."