Smolensk round postponed
| | |
| --- | --- |
| By Jamie O'Leary | Wednesday, June 22nd 2011, 11:20 GMT |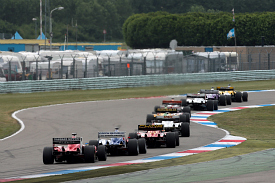 Superleague Formula has postponed its maiden trip to the Smolensk Ring until at least 2012 as the circuit will not be ready in time to host the series' proposed September round.
Superleague was due to be the first international championship to visit the new track on September 3-4, but received notification from senior track officials on Wednesday that this would not be possible.
A statement from the circuit read: "We had a meeting yesterday and have decided not to have the race this year. We have decided to put all our forces into circuit and infrastructure preparation in order that we can have the race in 2012."
Superleague competition director Robin Webb said that he is already working on a replacement round and could take the series to an alternative Russian venue this year.
"It a great pity for our 2011 calendar that we won't now be going to the Smolensk Ring," said Webb.
"We visited the circuit a number of times and it seemed that progress was ongoing. As a championship we are bound by decisions that circuits and promoters make. However we are hopeful that it may well fit into our calendar in 2012.
"We have received other offers to take the series elsewhere in Russia and also to alternative territories on the September date, and we are actively investigating further options."