Q & A: Latvala on day one problems
| | |
| --- | --- |
| By David Evans | Friday, June 17th 2011, 18:30 GMT |
Running second behind Petter Solberg but with a potentially good road position for Saturday, Jari-Matti Latvala looked like he had a great shot at Acropolis Rally victory as the end of leg one approached.
But then a transmission issue on the final stage of the day cost him over three minutes and left his hopes of a win in tatters. The Ford driver talked AUTOSPORT through what went wrong.
Q. What exactly happened?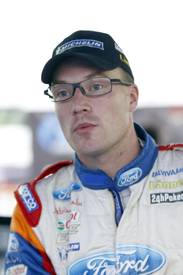 Jari-Matti Latvala: We came to the start of the stage, everything was fine. We had discussed things with our engineer and we were happy and ready to start. About 500 metres before the start, we went onto some gravel section and there was no drive to the front differential anymore. We had nothing.
There was no time to do anything, we had to just go into the stage and drive. We tried to do the stage as well as we could. It [the front differential] gave some drive in some moments, but it was very difficult to drive, it was pulling from one side to the other.
Q. Where did you get drive from the front? In slow corners?
JML: It gave some massive slip, but when you get in the higher speed, without so many revs, it gave some drive.
Q. When the diff was under less pressure?
JML: Yes, exactly, when we were faster in higher gears we had some drive.
Q. How do you feel about this?
JML: It's a very hard feeling. I really wanted to fight for the win. I wanted the victory here. It started okay, but it's tough. I have done so many mistakes in the past myself and now I am getting in the situation where I have got away from that and I am finding the consistency and now it's something new; a new area is coming to disturb this. It's like this sometimes, I'm not going to blame anybody at all - it's just a very unlucky situation.
Q. Have you ever had this before?
JML: No. We have never had this situation before, not in a test, never.
Q. What is the problem with the diff?
JML: All the driveshafts are in place, I didn't see it leaking any oil. I can't say, we need to see the car.
Q. What was the plan tonight?
JML: We thought that Petter is going to stay in the lead and we would stay in second place, we were going to do nothing tonight.
Q. Could you have caught Petter tomorrow?
JML: I think so. Three stages run twice and I think the second pass can be more difficult tomorrow.
Q. What's possible now?
JML: Two years ago on this rally I climbed back and made to the podium. Maybe that is too difficult, but the top six is possible.
Q. Is the podium possible?
JML: You never know. You have to have the positive feeling tomorrow. We will drive to chase the podium and see what happens.