Busch docked points for infraction
| | |
| --- | --- |
| By Diego Mejia | Tuesday, June 14th 2011, 08:28 GMT |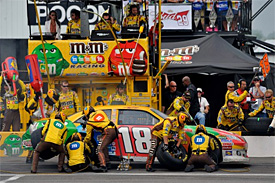 Kyle Busch and his team have been penalised with the loss of six championship points after his car failed post-race inspection at Pocono.
After finishing third in Sunday's Sprint Cup series race, the #18 Toyota driven by Busch was found to be too low on the left-front, going beyond the tolerances mandated by the NASCAR rulebook.
The six points docked to Busch as a result don't impact on his championship position, as he remains fifth in the standings now only four points ahead of his brother, Penske's Kurt Busch. He is now 20 points behind fourth-placed Kevin Harvick and 31 adrift from leader Carl Edwards.
Besides the points' penalty for Busch, crew chief Dave Rogers was fined US $25.000 for the infraction, while Joe Gibbs was also docked 6 points in the owner's standings.
"We brought the #18 car back to our race shop and have identified the problem which caused us to measure low during the post-race inspection process in Pocono yesterday afternoon," read a statement from Joe Gibbs Racing.
"We have made NASCAR aware of our findings and we accept the penalty they have issued today."
The penalty is proportional to those issued in the past for similar infractions, given the new points system in place for this season.