Ferrari extends Philip Morris deal
| | |
| --- | --- |
| By Pablo Elizalde | Tuesday, June 14th 2011, 12:50 GMT |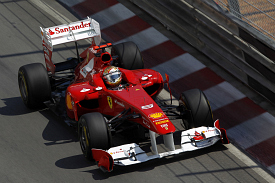 Ferrari has announced the extension of its agreement with Philip Morris International until the end of 2015.
The current deal was announced back in 2005 and was ending at the end of this year.
Ferrari had used Marlboro sponsorship since 1984, although a tobacco sponsorship ban kicked in in Formula 1 six years ago, thus not allowing the Italian squad to run Marlboro stickers.
The team removed the 'barcode' design from the side of its car last year following controversy about it being subliminal advertising for Marlboro.
The official name of the team in Formula 1 is still "Scuderia Ferrari Marlboro".