Canadian GP stopped after downpour
| | |
| --- | --- |
| By Jonathan Noble | Sunday, June 12th 2011, 17:49 GMT |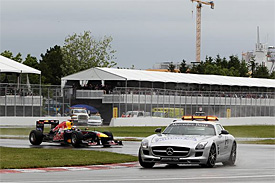 The Canadian Grand Prix was red-flagged on lap 25 on Sunday after deteriorating weather conditions meant it was too dangerous to continue.
With the Montreal circuit having been hit by showers all morning, and the race itself starting behind the safety car, a major downpour half an hour into the grand prix forced the FIA to abandon running totally.
Sebastian Vettel had dominated the early part of the race, with the only major incident being that between McLaren team-mates Lewis Hamilton and Jenson Button on lap eight - with Hamilton's collision with the pit wall forcing him out of the race.
With the safety car getting called out when the latest rain shower hit, eventually it was decided to stop the race entirely after 24 laps of running - with the drivers forming up on the grid.