Kristensen says McNish shunt scary
| | |
| --- | --- |
| By Simon Strang and Sam Tremayne | Saturday, June 11th 2011, 15:06 GMT |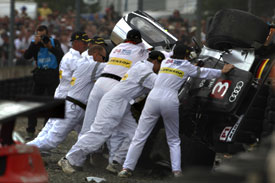 Tom Kristensen, who was gunning for a record ninth victory in the this year's Le Mans 24 Hours, has admitted that Allan McNish's ferocious accident which eliminated the #3 Audi R18 TDI from the event had frightened him.
The Dane, who also crashed the car during Thursday's qualifying session, added that he was relieved to see that no one had been hurt in the shunt.
"The car was going beatifully, the mechanics were doing a fantastic job and all three Audis out front looked really nice," Kristensen told AUTOSPORT. "The accident was terribly frightening.
"Thank God nothing happened to any spectators or photographers, or at least that's what I hear. The barrier did a good job and the monocoque did a fantastic job. In that sense to see Allan coming out [of the car] was [good] adrenaline. He's in the medical centre now and we want to hear more good news. I'm sure he will feel some pain.
"I saw the replay once, but immediately thought about who was the driver and a few seconds later understood it was Allan," he added. "I have not really spent a lot of time looking at it, but what you would think is the Ferrari should see the #1 behind him but it's very difficult, very tricky.
"Above all, it looks like nobody has been hurt."