Renault ramps up simulator facilities
| | |
| --- | --- |
| By Jonathan Noble | Monday, June 6th 2011, 10:13 GMT |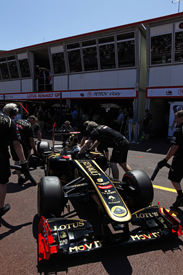 Renault has given the green light for investment in a state-of-the-art simulator at its Enstone base, as part of an upgrade of its facilities.
The team has fallen behind rivals in terms of its simulator technology in recent years, with frontrunning teams like McLaren, Red Bull Racing and Ferrari having spent heavily in this area.
Now, however, Renault's new owners have agreed to fund the costs of a new simulator that it hopes to have up-and-running by the end of the year.
As well as the work on the simulator, Renault has recently completed an upgrade of its windtunnel, which includes upscaling it to 60 per cent size, as well as an overhaul of its Supercomputer technology.
The investment in improving its facilities comes in the wake of wild rumours over the Monaco weekend that the team had been struggling to pay its bills.
Team principal Eric Boullier told AUTOSPORT, however, that the speculation was incorrect and the outfit was fully up-to-date with payments.
"Like any business, we have some loans for our own business and our own investment, but we don't have any debt now to Renault in 2011," he said.
"We have a multi-year contract and a special agreement between us and Renault, like when you pay your mortgage back. We have some pending loan payments for the future, but that is for the future - it is not for this year. We have absolutely no issue at all. Everything is fine, perfectly fine."