Rosberg calls for changes to barrier
| | |
| --- | --- |
| By Pablo Elizalde | Saturday, May 28th 2011, 15:02 GMT |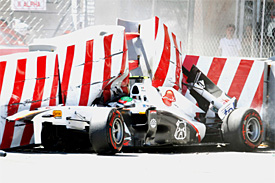 Nico Rosberg believes it may be time to change the barriers at the chicane of the Monaco circuit following Sergio Perez's crash during qualifying.
The Mexican driver was taken to hospital after he crashed heavily against the barriers after losing control of his car ahead of the chicane.
Rosberg had been involved in a very similar accident in the morning's practice, but the Mercedes driver was lucky to just miss the point where Perez crashed later.
He admitted he was very lucky to avoid the barrier, and called for changes to improve the safety.
"I was very fortunate this morning that I completely missed that barrier," said Rosberg. "That barrier has been there for a long time and a lot of things have happened there.
"Maybe it's time to reconsider because it should be pretty easy to get it out of the way and move it back 50 meters or something. I think it may be time to do that."
Rosberg also said that the bump at the end of the tunnel, where the cars are travelling at very high speed was also a concern.
"Monaco is generally a dangerous track. It's because you have a very high speed and you jump. As you start braking you jump in the braking zone, and that's a bit of a concern obviously."
The German admitted he had not see Perez's crash.
"I didn't see it and I think it's better if I don't see it," he said.