Drivers question use of asphalt roads
| | |
| --- | --- |
| By David Evans | Friday, May 27th 2011, 07:07 GMT |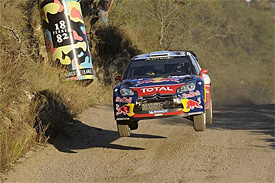 The leading drivers in the World Rally Championship have questioned the use of the asphalt roads on this week's Rally Argentina.
The organisers of the sixth round of the series have included 50 miles of asphalt, notably at the end of the El Condor stage and the majority of the Las Jarillas test on Saturday morning.
Citroen driver Sebastien Loeb admitted he was baffled at the organisers' decision. He said: "I don't know if they really needed that [the asphalt]. They have lots of nice [gravel] stages here.
"The asphalt sections here are very fast, faster than anywhere else in the past and it's going to be a special exercise on the soft gravel tyre."
Ford's Mikko Hirvonen agreed with his rival, saying: "It's going to be really tricky there, it's so bloody fast - faster than anything in Catalunya.
"For me, it's too fast, it's a bit stupid, when this is such a nice stage and then we have this asphalt at the end of it. I don't know why they did it."