| | |
| --- | --- |
| Tool error caused Spies' accident | |
| | |
| --- | --- |
| By Matt Beer | Sunday, May 1st 2011, 17:07 GMT |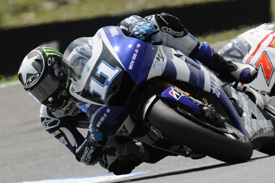 Yamaha has revealed that a tool accidentally left in place on Ben Spies' bike caused the American's accident in the Portuguese Grand Prix.
Spies was struggling from the outset as a tool used to temporarily block the fuel overflow pipe on the grid was not removed prior to the start, and was partially obstructing his brake lever. Although he briefly got up to fifth, he ran wide while struggling with the problem and fell to 10th, before later crashing out.
"When I noticed the tool hadn't been removed I tried to do it myself because it was right in there next to my brake lever," Spies explained.
"I managed to get it off but then this loose tube was flying around which was pretty scary. It really messed with my concentration as I was worried about taking out another rider in one of the corners and then I crashed.
"After the DNF at Jerez this was really frustrating as it was completely out of my control, nothing to it now but to move on and come back strong for Le Mans."
Team director Massimo Meregalli apologised to Spies for the incident.
"Ben has again been unlucky at Estoril. It is unfortunate that sometimes these human errors occur in racing at all levels," said Meregalli. "Fortunately he was uninjured and was able to avoid involving any other riders in the incident."