Ecclestone says Formula 1 not for sale
| | |
| --- | --- |
| | Wednesday, April 20th 2011, 09:25 GMT |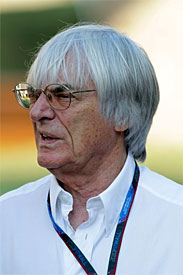 Formula 1 supremo Bernie Ecclestone says the sport in not for sale following reports that Rupert Murdoch's News Corp is in talks over acquiring control of grand prix racing.
"It's rubbish," Ecclestone told the Telegraph Sport. "The sport is not for sale."
Sky News reported on Tuesday evening the News Corp had been in preliminary talks over the purchase of F1, with Mexican billionaire Carlos Slim also linked to the deal by forming a consortium with News Corp.
The networks said the talks were at an "embryonic" stage at the moment.
The report also says that News Corp could "decide not to attempt to acquire a direct stake in F1 but instead bid for the broadcast rights".
According to the Reuters news agency, News Corp has had no contact with F1's current owner CVC so far.
The private equity firm purchased SLEC - Formula 1's holding company - back in 2006.