Foyt hires Junqueira for Indy 500
| | |
| --- | --- |
| By Matt Beer | Monday, April 4th 2011, 15:50 GMT |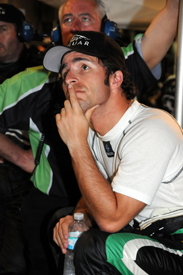 Bruno Junqueira will return to the Indianapolis 500 with AJ Foyt Racing this year.
The 34-year-old Brazilian took pole for IndyCar's premier race with Ganassi in 2002, and has twice finished fifth in the event. Last year he qualified the FAZZT team's second car on Bump Day after just a handful of practice laps.
Junqueira, who is racing in the American Le Mans Series with the RSR Jaguar GT team this year, joins Foyt's full-season driver Vitor Meira.
"I am very happy," said the 34-year-old Brazilian. "First, because I love the race; second, because the biggest champion in that race is AJ Foyt - he won as a driver, he won as a team owner, and third, I'm going to have Vitor as my team-mate who is a good friend and a good driver so I think it's a perfect combination."
Foyt was very pleased to have secured Junqueira's services.
"Bruno certainly knows his way around Indy — every time he's run there, he's been fast," said Foyt, "plus he and Vitor get along well — they're both from Brazil. I may have to start learning Portuguese...
"Not really, but I think it'll be great and it will make us a stronger team for Indy."