Glock says fitness no issue for Sepang
| | |
| --- | --- |
| By Dieter Rencken and James Gent | Wednesday, March 30th 2011, 14:18 GMT |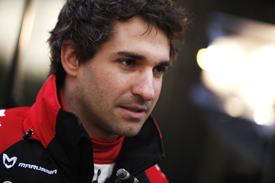 Virgin Racing's Timo Glock is unconcerned that the recent surgical operation to remove his appendix could harm his preparation ahead of the Malaysian Grand Prix.
Although Glock competed at the Australian Grand Prix without discomfort, suggestions in the paddock that the high speeds and stifling humidity indicative of the sweeping Sepang International Circuit could pose higher risks.
The German was confident, however, that a few aches and pains wouldn't slow him down.
"It's all okay. I just feel I couldn't do a proper workout in the last three weeks. But it's nothing critical. My muscles just realise that they have to wake up again!
"It's not so bad that I would go to Malaysia and would be worried about my fitness. The lower muscles are just a bit...unused, and that's it. Malaysia shouldn't be a problem."