Sauber targets Spain for new diffuser
| | |
| --- | --- |
| By Jonathan Noble | Tuesday, March 29th 2011, 12:00 GMT |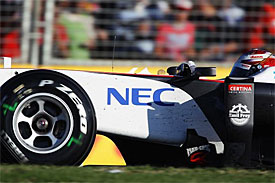 Sauber expects to have its 2011-style exhaust blown diffuser system ready in time for the Spanish Grand Prix, as it looks to build on the promising pace of its new C30.
Although the team came away from Australia with no points after a technical infringement led to both cars being disqualified, the outfit is encouraged by the handling characteristics of the car.
Technical director James Key said the one of the big steps to come is the Red Bull Racing-type exhaust layout.
"We are looking at alternatives, and we are looking to introduce something once we are satisfied that it works, because they can quite sensitive," said Key. "If you go wrong then you can be in trouble.
"With the system we have got now it is fine and quite robust, but it is not as powerful as some of the other systems you see around the pit lane.
"We tried some of the solutions you can see on other cars. We could get them to work but we had a deficit of total downforce. Since then, there have been some breakthroughs so we will look at it again."