Montoya claims Fontana Cup pole
| | |
| --- | --- |
| By Diego Mejia | Saturday, March 26th 2011, 02:54 GMT |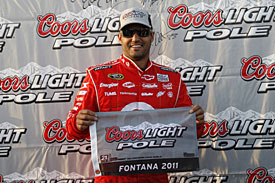 Juan Pablo Montoya claimed his sixth NASCAR Sprint Cup Series pole position in qualifying for Sunday's race at Auto Club Speedway in Fontana.
The Colombian had run seventh fastest in a rain-delayed practice, which gave him one of the late slots to complete his qualifying run. On his first and only lap he knocked Joe Gibbs Racing's Joey Logano off provisional pole with a lap time of 38.992s - the only driver breaking the 39-second bracket - at an average speed of 184.652mph.
Logano's team-mate Denny Hamlin came closest to beating Montoya's benchmark, ending up 0.081s from the Earnhardt Ganassi driver while joining him on the front row of the grid.
Montoya had been close to pole previously at Fontana but sideways moments at Turn 4 had meant second and fourth on his most recent outings at the two-mile oval.
"I still got it wrong this time," said Montoya about the final turn. "I didn't screw it as much because I usually get on the gas there too early and end up washing up in the wall.
"So I got in and as soon as I felt the rear starting to turn around I lifted. Had too wait a little longer and could've been a little bit faster but nailed [Turns] 1 and 2 pretty good."
"Qualifying and race set-ups here are two completely different things, so tomorrow there's going to be a lot of work in practice. We've done plenty of work on the cars in order to improve them and it seems like our race pace is now usually better than in qualifying. We're still missing a little bit to be able to win a race on an oval, but I think we're getting closer to that."
Logano ended up third beside Front Row Motorsports' Regan Smith, whose ECR-powered Chevy held on to provisional pole for most of the session. Tony Stewart was fifth, ahead of the fastest Ford of Roush Fenway's David Ragan.
Richard Childress Racing's Jeff Burton was seventh beating Kyle Busch, who managed to qualify in the top 10 on his first flying lap of the day on his back up car after crashing his primary one early in practice.
Stewart Haas's Ryan Newman and Hendrick Motorsports' Mark Martin completed row five of the grid for Sunday's race, making it six Chevrolets inside the top 10.
Michael Waltrip Racing's David Reutimann, who had been fastest in practice earlier in the day, finished only 14th, two places ahead of local hero and reigning champion Jimmie Johnson while points leader Kurt Busch was only 24th fastest in his Penske Dodge.
Casey Mears was the fastest of those having to qualify on speed with 25th and there were no drivers left out of the grid this time as only 43 cars entered this weekend's event.
Pos  Driver              Team/Car                     Time     Gap
 1.  Juan Pablo Montoya  Earnhardt Ganassi Chevrolet  38.992s
 2.  Denny Hamlin        Gibbs Toyota                 39.073s  + 0.081s
 3.  Joey Logano         Gibbs Toyota                 39.102s  + 0.110s
 4.  Regan Smith         Furniture Row Chevrolet      39.124s  + 0.132s
 5.  Tony Stewart        Stewart Haas Chevrolet       39.133s  + 0.141s
 6.  David Ragan         Roush Fenway Ford            39.196s  + 0.204s
 7.  Jeff Burton         Childress Chevrolet          39.211s  + 0.219s
 8.  Kyle Busch          Gibbs Toyota                 39.241s  + 0.249s
 9.  Ryan Newman         Stewart Haas Chevrolet       39.245s  + 0.253s
10.  Mark Martin         Hendrick Chevrolet           39.248s  + 0.256s
11.  Matt Kenseth        Roush Fenway Ford            39.257s  + 0.265s
12.  Jamie McMurray      Earnhardt Ganassi Chevrolet  39.292s  + 0.300s
13.  Marcos Ambrose      Petty Ford                   39.317s  + 0.325s
14.  David Reutimann     Waltrip Toyota               39.320s  + 0.328s
15.  Paul Menard         Childress Chevrolet          39.355s  + 0.363s
16.  Jimmie Johnson      Hendrick Chevrolet           39.359s  + 0.367s
17.  Clint Bowyer        Childress Chevrolet          39.366s  + 0.374s
18.  Carl Edwards        Roush Fenway Ford            39.388s  + 0.396s
19.  Brian Vickers       Red Bull Toyota              39.418s  + 0.426s
20.  AJ Allmendinger     Petty Ford                   39.448s  + 0.456s
21.  Brad Keselowski     Penske Dodge                 39.450s  + 0.458s
22.  Kasey Kahne         Red Bull Toyota              39.481s  + 0.489s
23.  Kurt Busch          Penske Dodge                 39.552s  + 0.560s
24.  Kevin Harvick       Childress Chevrolet          39.580s  + 0.588s
25.  Casey Mears         Germain Toyota               39.592s  + 0.600s
26.  Martin Truex Jr     Waltrip Toyota               39.602s  + 0.610s
27.  Trevor Bayne        Wood Brothers Ford           39.603s  + 0.611s
28.  Landon Cassill      Phoenix Chevrolet            39.627s  + 0.635s
29.  Jeff Gordon         Hendrick Chevrolet           39.632s  + 0.640s
30.  Dale Earnhardt Jr   Hendrick Chevrolet           39.662s  + 0.670s
31.  Dave Blaney         Baldwin Chevrolet            39.793s  + 0.801s
32.  Greg Biffle         Roush Fenway Ford            39.826s  + 0.834s
33.  Michael McDowell    HP Toyota                    39.866s  + 0.874s
34.  Bobby Labonte       JTG Daugherty Toyota         39.925s  + 0.933s
35.  Robby Gordon        Gordon Dodge                 39.938s  + 0.946s
36.  Travis Kvapil       Front Row Ford               39.997s  + 1.005s
37.  David Gilliland     Front Row Ford               40.067s  + 1.075s
38.  Andy Lally          TRG Chevrolet                40.233s  + 1.241s
39.  Ken Schrader        FAS Lane Ford                40.463s  + 1.471s
40.  Joe Nemechek        NEMCO Toyota                 40.527s  + 1.535s
41.  Todd Bodine         Germain Toyota               40.780s  + 1.788s
42.  Tony Raines         Front Row Ford               40.990s  + 1.998s
43.  JJ Yeley            Whitney Chevrolet