| | |
| --- | --- |
| Capirossi escapes with bruising | |
| | |
| --- | --- |
| By Matt Beer | Sunday, March 20th 2011, 22:37 GMT |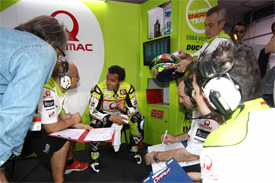 Loris Capirossi did not suffer any broken bones when he was collected by his Pramac Ducati team-mate Randy de Puniet's crashing bike on lap one in Qatar, the team has confirmed.
Both Pramac bikes had to retire early from the Losail season-opener due to the incident, which saw de Puniet fall when trying to pass Capirossi. As the Frenchman went down, his bike bounced and struck the passing Capirossi's hand, leading to fears of a serious injury. But it has now been confirmed that he escaped with only severe bruising.
"Disappointed, but in racing these things can happen. I am very sorry it had to happen with my new team-mate, who has no faults," said Capirossi.
"The only positive aspect is that the hand is not broken, I felt a lot of pain and I had some concerns, but we will be in Jerez."
De Puniet apologised for the incident, which he put down to cold tyres.
"I'm sorry for the fall and to have the misfortune to hit my team-mate," he said. "The rear tyre was probably still cold on the left side and as soon as I opened the throttle the bike raised in the air and all of a sudden I found my nose on the ground."
Pramac technical director Fabiano Sterlacchini said the clash had left the team speechless.
"I think this is the first time that such a thing has happened to me - both riders out of the race after a few turns in a clash between them," he said. "These things happen and there's not much to say about it."