Snetterton corner names revealed
| | |
| --- | --- |
| | Wednesday, March 16th 2011, 09:53 GMT |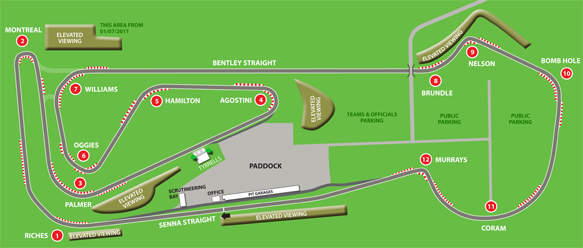 MotorSport Vision has announced the names for the new corners on the revamped Snetterton layout.
The Norfolk track's new extended 300 layout will host its racing debut with a UK national meeting this weekend.
MSV invited fans to propose names for the extra corners on the heavily revised track, and the results saw 2008 world champion Lewis Hamilton, Norfolk-based grand prix driver turned commentator Martin Brundle, and MSV chief and ex-Formula 1 racer Jonathan Palmer among those honoured with corners in their names.
Williams team founder Sir Frank Williams and legendary commentary Murray Walker also lend their names to corners, as does motorcycle legend Giacomo Agostini, famous car manufacturer Bentley, and businessman and MSV co-founder Sir Peter Ogden.
The new hairpin at the second bend is named Montreal in reference to the grand prix circuit that inspired the turn, while the second element of the former Esses becomes Nelson in honour of Norfolk-born British hero Lord Nelson.
The circuit's shorter layouts include turns named after Norfolk motorsport institutions - with a Chapman turn in honour of Lotus founder Colin Chapman and a Firmans to pay tribute to Van Diemen founder Ralph Firman.
"This is an extremely important time for Snetterton, and I'm delighted not only with what we have achieved but also with the volume of glowing tributes we have already received," said Palmer.
"When we started the process we invited people to contribute to the naming of the new corners, and our web campaign received a phenomenal response. Fortunately there were some pretty dominant names and suggestions, many of which have been incorporated with my own views.
"It was important to select the most appropriate corner for each person however, and I am delighted that that each famous name fits with the character and nature of their corner - like Agostini, one of the best motorcycle racing overtaking corners, or Murrays, which will see an enormous amount of drama and is just the place where Murray's excited commentary would be in its element.
"When we embarked upon this project we wanted to completely transform Snetterton and give pride to competitors, spectators, fans and local residents alike, and I believe the announcement of such superb names for the new Snetterton circuit features will play an important part in achieving this."
New Snetterton corner names by circuit

300               200               100
1 - Riches        1 - Riches        1 - Agostini
2 – Montreal      2 – Montreal      2 – Hamilton
3 – Palmer        3 – Chapman       3 – Oggies
4 – Agostini      Bentley Straight  4 – Firmans
5 – Hamilton      4 – Brundle       5 – Palmer
6 – Oggies        5 – Nelson
7 – Williams      6 – Bomb Hole
Bentley Straight  7 – Coram
8 – Brundle       8 – Murrays
9 – Nelson        Senna Straight
10 – Bomb Hole
11 – Coram
12 – Murrays
Senna Straight