Ecclestone: Australia very important
| | |
| --- | --- |
| By Pablo Elizalde | Wednesday, March 16th 2011, 09:40 GMT |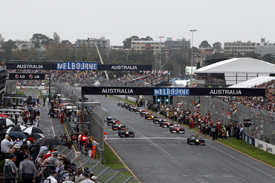 The Australian Grand Prix is as important as the Formula 1 race in Monaco, according to F1 boss Bernie Ecclestone, who admitted he would "hate" to lose the event.
"Australia is as important to us as Monaco," Ecclestone was quoted as saying by Reuters during a teleconference with Australian media.
"It's part of the world championship and has been for an awful long time. We'd hate to think that we're going to lose Australia.
"In the case of Melbourne, if the product is too expensive for them, we understand that and when the contract comes to an end there's no need to renew it. We wouldn't force somebody to buy something that they don't want or think is too expensive.
"We get massive worldwide television coverage - if that's not important well, okay, don't buy the product," added Ecclestone.
The Australian Grand Prix has faced growing opposition by locals in recent times, with some politicians calling for the end of the race, which has posted big losses over the past years.
Ecclestone said earlier this year that he was ready to end the deal with Melbourne if organisers really wanted.
The race will open the 2011 Formula 1 season next week.