Gearbox issue costs Loeb rally lead
| | |
| --- | --- |
| By Matt Beer | Saturday, March 5th 2011, 20:26 GMT |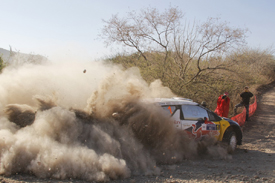 Sebastien Loeb is set to lose the lead of Rally Mexico after starting this afternoon's first stage late.
The world champion had begun the loop 19.7 seconds ahead of Citroen team-mate Sebastien Ogier, but his DS3 developed a gearbox issue before the start of Ibarrilla, forcing him to go into the stage five minutes late.
That means he will incur a 50s time penalty, although prior to the application of the penalty he managed to extend his lead over Ogier to 25.9s.
"We were really late on the road section because there was massive traffic, and when we arrived at the check point, I lost the gears," Loeb explained. "We were locked in third gear. It was impossible to take the start in this condition so we had to work a lot on the car and it took five minutes. We did a manual repair and it seems to be okay now."
Despite Loeb's issue handing him an advantage, Ogier said he would not take any delight from inheriting the lead - especially as the problem could also occur on his Citroen.
"It's not like this that I want to take the lead," he said. "I hope it's not a big problem for him.
"I'm not happy with that - we have the same car and we're the same team, so it could be not good for me as well."